Biofilm Annular Reactor
          Evaluation of surface associated biological reactions require surface specific evaluations. By matching surface shear and transport conditions within the BioSurface Technologies Biofilm Annular Reactor (BAR) to your process conditions, relevant evaluations of your water treatment processes are possible.
          The BST Model 1420 BAR consists of a stationary outer cylinder and a rotating inner cylinder. Process fluid is circulated in the annulus between the two cylinders. The current lab and field models operate with a variable speed motor. The rotational speed of the inner cylinder is set to provide liquid/surface shear similar to the pipe flow shear of the process water system you are evaluating.
          The Laboratory Annular Reactor (Model 1420 LS) is manufactured using a slotted, polycarbonate inner cylinder and a glass outer cylinder. Twenty (20) slides are flush-mounted on the rotating inner cylinder. The slides are commonly available in stainless steels, plastics, and various alloys, but can be fabricated from most common manufacturing materials. The reactor unit is fully autoclavable to 121°C. A jacketed version of the laboratory unit described above is also available (Model 1420 LJ) for evaluations which require temperature control. The Model 1420 BAR is CE certified and accepts 100 to 240 VAC power input.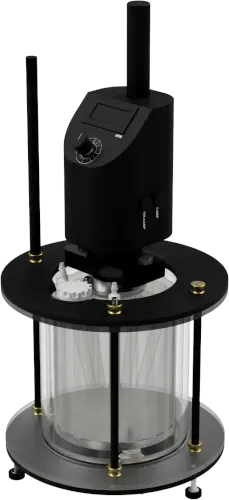 BAR 1420 LS
Standard Laboratory Biofilm Annular Reactor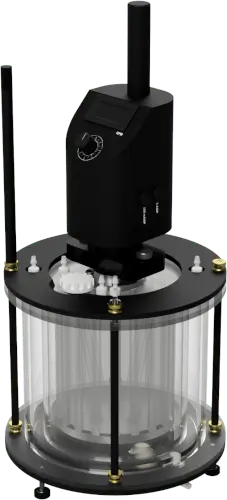 BAR 1420 LJ
Jacketed Laboratory Biofilm Annular Reactor

BAR 1420MC-1
BAR Motor / Controller Box
Request a quote from BioSurface Technologies: