Biofilm Annular Reactor
Unlocking Precision in Surface-Associated Biological Reactions
Evaluating surface-associated biological reactions demands a tailored approach. The BioSurface Technologies Biofilm Annular Reactor (BAR) offers a unique solution, allowing you to align surface shear and transport conditions with your specific process requirements. This alignment enables relevant assessments of your water treatment processes.
Monitor Construction
The BAR consists of two concentric cylinders: a stationary outer cylinder and a rotating inner cylinder. Process fluid moves in the region between the cylinders with biofilms accumulating on the internal surfaces. Rotational speed (30 to 500 RPM) is controlled by a variable-speed DC motor (100 to 240 VAC). Twenty removable slides are flush mounted on the internal, rotating cylinder. Slides (coupons) for obtaining deposit samples can be constructed from most relevant materials.
Aligning with industry standards and best practices, the Model 1420 BAR facilitates rigorous evaluations of surface-associated biological reactions. Its adaptability and precision make it a powerful tool for enhancing your understanding of water treatment processes.
Experience the advantage of the BioSurface Technologies Biofilm Annular Reactor for your research and development initiatives. Explore the possibilities and elevate your investigations in surface-specific biological reactions to new heights.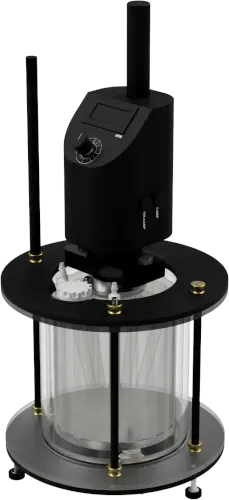 BAR 1420 LS
Standard Laboratory Biofilm Annular Reactor
Research and Process Monitoring Benefits
Kinetic Analysis: Enable kinetic analysis of biofilm rate processes, including nutrient uptake, growth rate, and biofilm removal.
Removable Growth Surfaces: Permit intermittent monitoring and measuring of cell mass, number, and biofilm composition.
Minimum Biomass Growth: Achieve minimum biomass growth in the bulk fluid at short fluid retention times.
Controlled Fluid Shear: Experience controlled fluid shear, independent of bulk residence time.
Compact Construction: Benefit from a compact construction with minimal space requirements.
Simple, Reliable Operation: Operate the BAR with simplicity, reliability, and low maintenance.
Ideal for Biocide Studies: Conduct effective studies on the impact of biocides on biofilm formation and dynamics.
Pathogenic Biofilm Studies: Seal the Model 1420 Biofilm Annular Reactors for the study of pathogenic biofilms.
Applications for Comprehensive Research
The primary function of the BioSurface Technologies BAR is to provide a platform for biofilm evaluation in water and process fluids. Its versatile applications make it ideally suited to mimic water distribution systems or industrial piping systems, simulating hydraulic residence times and hydraulic shear stresses. Some specific applications include:
Drinking Water Applications
Evaluating the disinfection efficacy between free chlorine and alternate disinfectants against attached versus suspended microbial activity in distribution systems.
Assessing the long-term disinfection efficacy of reduced disinfectant residuals in distribution systems.
Examining the efficacy of potential disinfectant booster stations in distribution systems.
Investigating the distribution regrowth potential of treatment plant modifications, requiring the use of pilot plant facilities.
Analyzing the long-term impacts of various corrosion inhibitors against pipeline corrosion and microbial regrowth, considering that most corrosion inhibitors contain phosphorus, a valuable nutrient for microbial growth.
Industrial Applications
Evaluating biocide efficacy in cooling towers and heat exchangers.
Conducting biostability studies for various process waters.
Performing corrosion control studies for various process waters.
Assessing control of biofilm growth in ultrapure water distribution systems.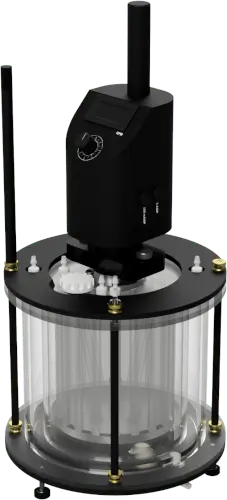 BAR 1420 LJ
Jacketed Laboratory Biofilm Annular Reactor

BAR 1420MC-1
BAR Motor / Controller Box