About BioSurface Technologies
Founded in 1994
BioSurface Technologies Corporation (BST) was founded in 1994 in Bozeman, Montana, USA by researchers with expertise in biofilms. Since then, BST has rapidly expanded its product line with innovative products that enable researchers to better understand how microorganisms communicate with each other and adapt to their environment.
The company's goal is to provide biofilm reactor systems and microscopy flow cells for evaluations and monitoring of biofilm processes. Consequently, it has become the sole licensed manufacturer of the Biofilm Annular Reactor (BAR), Drip Flow Biofilm Reactor® (DFR), Rotating Disk Biofilm Reactor (RDR), CDC Biofilm Reactor® (CBR), Bio-inLine® Biofilm Reactor (IBR), and the Industrial Surfaces Biofilm Reactor (ISBR). Additionally, it has developed a wide variety of microscopy flow cells including transmission flow cells, coupon evaluation flow cells, capillary flow cells, and the Treatment Imaging flow cell.
Much of the research and development conducted is in conjunction with other biofilm research laboratories and universities around the globe. BST strives to always produce the most reliable and versatile biofilm research products on the market. Because of this, it is always releasing new and updated products to better suit the current needs of researchers.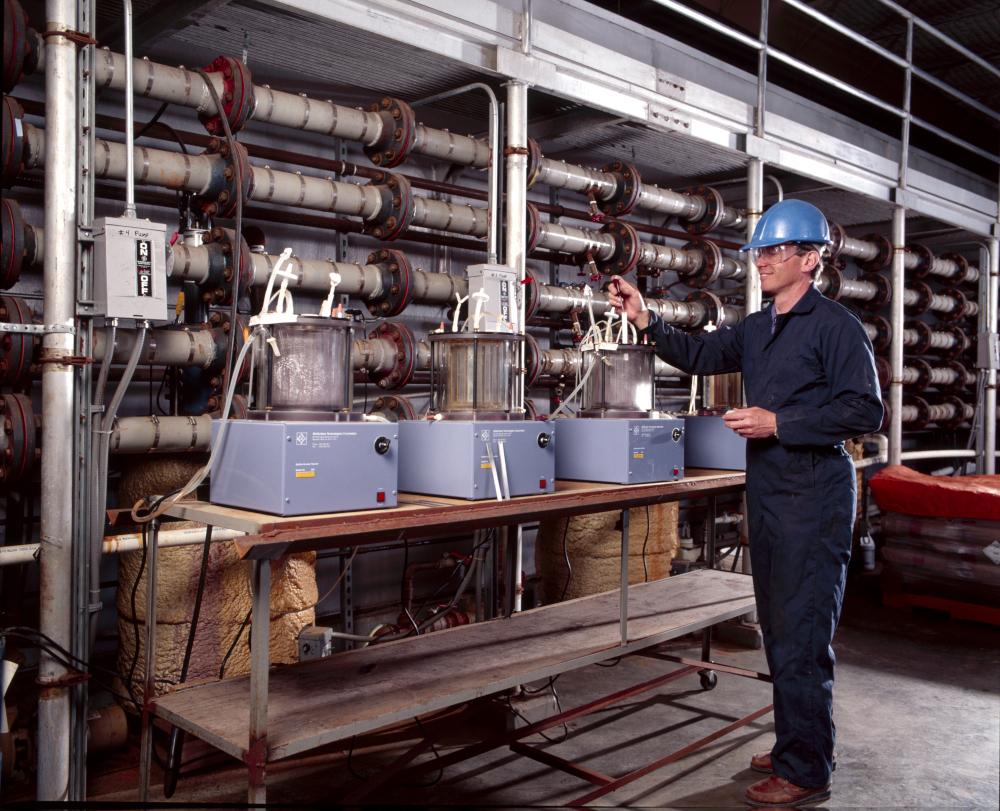 (Founder and CEO Bryan Warwood setting up some of the original Biofilm Annular Reactors in 1994)
Located in Bozeman, MT
BST is located in beautiful Bozeman, Montana, USA, near the Montana State University campus (home of the Center for Biofilm Engineering). It has facilities for product assembly and manufacturing in our Bozeman location and continually strives to be the world leader in providing innovative products for biofilm investigations.
 With Sustainability in Mind
BioSurface Technologies is committed to developing sustainable practices within its operations. BST actively recycles waste materials such as cardboard boxes and shipping materials at its Bozeman facility and has implemented methods to reduce resource use whenever possible. BST has also committed to being carbon neutral through a carbon offset program: TerraPass.
Model DFR 110-4PET (pictured above) is one of our more popular biofilm reactors. These robust reactors offer completely separate channels for growing a wide variety of microbes on a surface with an air-liquid interface.
Model CBR 90-2 (pictured above) has become a globally-recognized powerhouse biofilm reactor. This reactor, designed in conjunction with the Center for Disease Control and Prevention, provides twenty-four (24) replicates per experiment which can be used for all kinds of studies, including antimicrobial testing.
The Treatment Imaging Flow Cell (FC 310) was designed due to a need to easily image coupons from the CDC Biofilm Reactor® during treatment. The flow cell holds a single coupon, and can be used either in conjunction with a CBR or completely on it's own.