BioSurface Technologies' Biofilm Reactors provide easy-to-sample biofilm growth systems to aid in the evaluation of anti-microbial agents, surface treatments, and biofilm processes. These systems allow multi-sample opportunities and repeatable data. ASTM Standard Methods are available for most of our biofilm reactors.

BioSurface Technologies' Microscopy Flow Cells are reusable and autoclavable devices designed for monitoring and evaluating biofilm processes using microscopy and image analysis. All flow cells are compatible with confocal, fluorescent, and reflected light microscopy.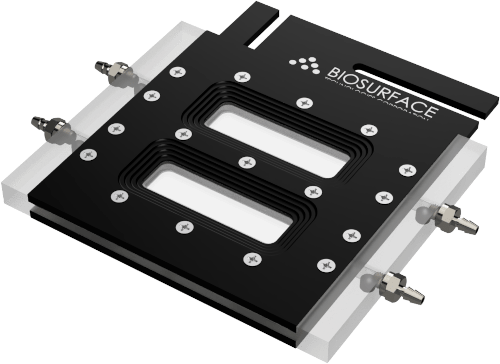 Test Coupons and Surfaces
BioSurface Technologies offers many variations of test surfaces to be used for our line of biofilm reactors and flow cells. These surfaces (coupons) come in more than 40 different materials across several different configurations.
ReadyNow™ Biofilm Test Carriers
ReadyNow™ Biofilm Test Carriers by Stratix Labs™ are a simple way to conduct anti-biofilm testing. These are pre-grown, ready-to-use biofilm carriers for disinfectant efficacy testing. These test carriers are available through BioSurface Technologies Corporation as a preliminary tool to help assess your liquid disinfectant formulations before launching full biofilm reactor studies using one of our many reactors currently available.
Don't see exactly what you need? Contact us to discuss modifying one of our existing products to fit your needs, or to talk to our design engineer about your own reactor design ideas.